Danube Dynamics stattet industrielle Maschinen und Anlagen mit hoch-effizienten Edge-Computing-Devices und eingebetteter Künstlicher Intelligenz (KI) aus, und ermöglicht so eine Maximierung der Sicherheit und Produktivität ihrer Maschinen. Einsatzgebietet unserer Lösungen sind Predictive Maintenance, intelligente Roboterarme, autonome mobile Roboter und smarte Logistik-Anwendungen. Wir kombinieren dabei das beste aus beiden Welten: langjährige Erfahrung im Bereich der industriellen Hardware-Software-Entwicklung und hoch-moderne Machine-Learning-Algorithmen.
From small power-efficient IoT nodes to high-performance embedded systems, we can realize hardware projects based on your requirements.
Especially with high-speed components like FPGAs, application processors, and different types of memories, well-defined specifications, before the implementation, become even more important.
In every project, we focus on developing cost-efficient hardware while using optimal components for the specific use-case.
Naturally, we also keep EMI in mind to ease product certification later on in the process.
On request, we also take on the organization of prototype production and certification with external partners.
Development Tools
We are usually working with the following tools on customer projects and our own designs:
Altium® Designer®
Autodesk® Eagle
Spice Simulation (LTSpice®, Berkeley Spice®, Tina-TI®)
Integrated Circuits
The following devices have been successfully used in previous customer projects:
FPGA SoC devices

Xilinx® Zynq® UltraScale+ MPSoC and Zynq®-7000
Intel® Arria® 10 SoC and Cyclone® V SoC

Controller devices

ST Microelectronics STM32MP1-Series
NXP LPC-Series and i.MX RT-Series
Nordic nRF52-Series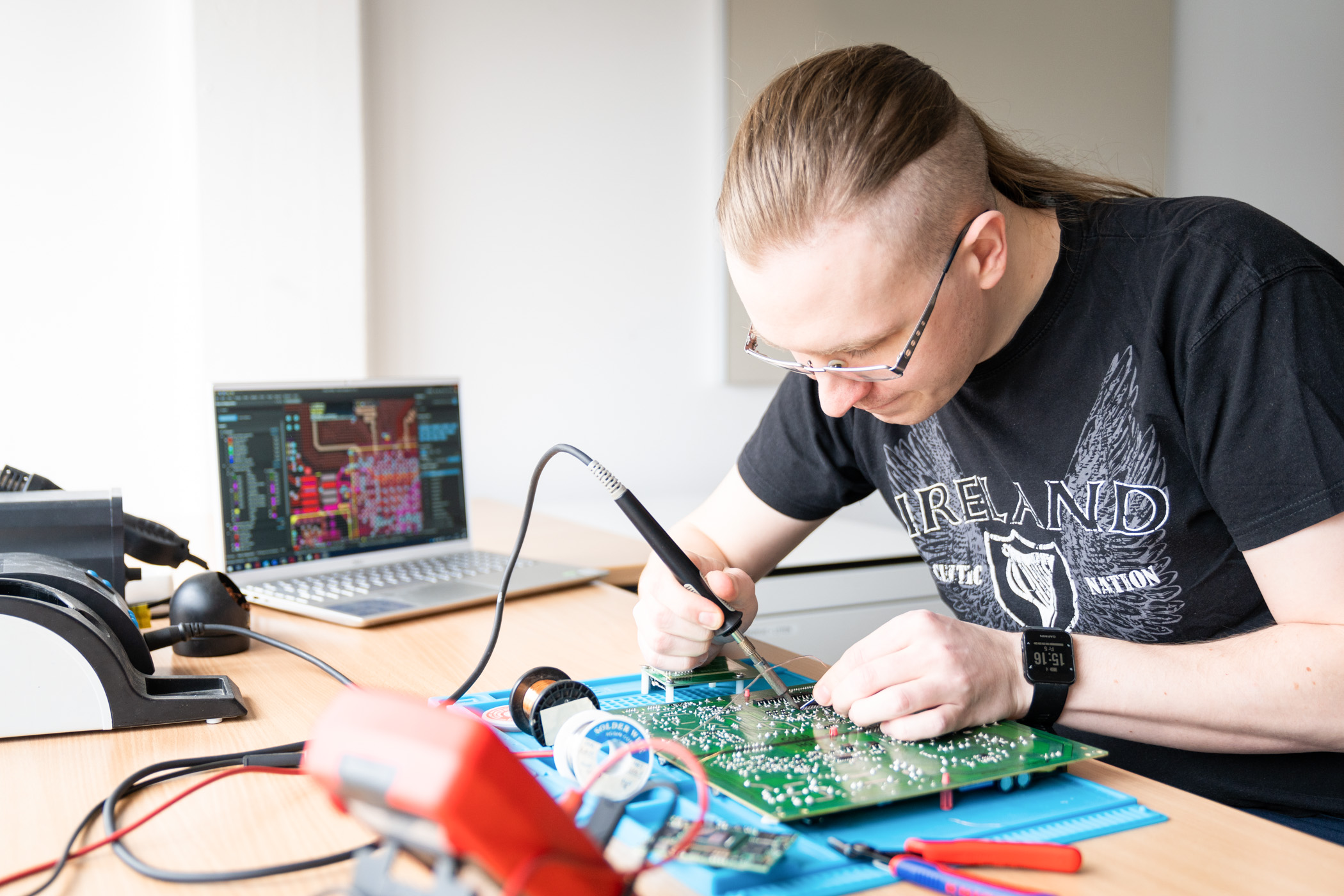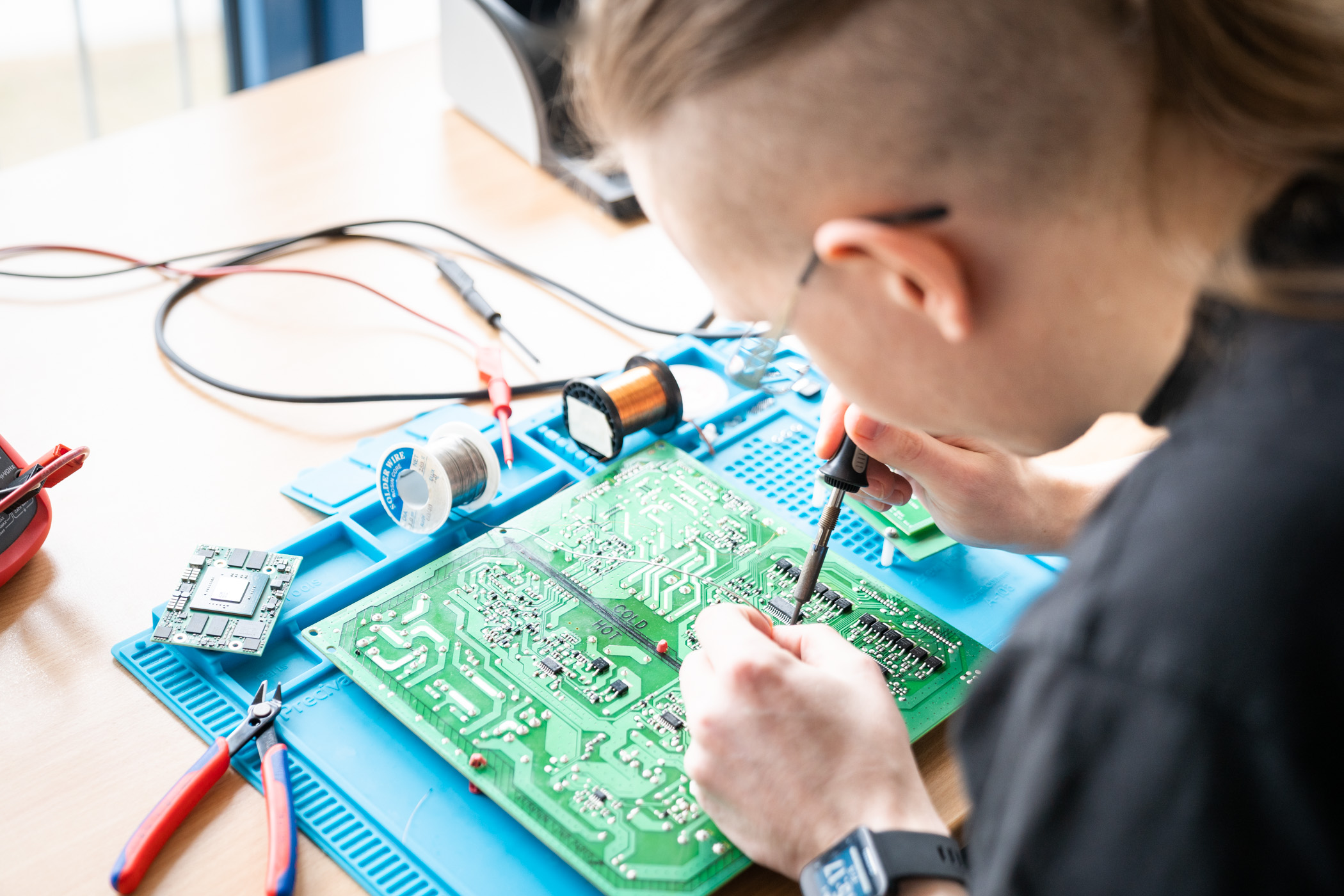 Software development, especially for embedded systems, is one of the main topics at Danube Dynamics.
Well designed and reliable code breathes life into hardware components.
With our knowledge and experience, we cover all areas of hardware-related software development.
Previous projects consisted of bare-metal programmed IoT devices, but also high-performance SoCs, which are powered by embedded operating systems like Linux.
On a daily basis, we use C, C++, C#, and Python.
We are familiar with several kinds of communication technologies, both wireless and wired: Bluetooth® LE, Wi-Fi, LoRaWAN, Ethernet, CAN, etc.
Devices
The following IoT devices have successfully been used in previous projects:
ST Microelectronics STM32-Series
Nordic nRF52-Series
Espressif ESP32
NXP LPC-Series and i.MX RT-Series
In various high-performance applications, the following devices have been used:
Xilinx® Zynq® UltraScale+ MPSoC and Zynq®-7000
Intel® Arria® 10 SoC and Cyclone® V SoC
Frameworks & Technologies
The engineers at Danube Dynamics have extensive knowledge with the following frameworks and technologies:
Customized embedded Linux
Linux kernel driver development
Integration of various high-level software packages, e.g., Tensorflow/Keras
Real-time operating systems like FreeRTOS
Bare-metal programming
Communication and work-offloading using programmable logic (FPGAs)
Due to the raw processing power and parallelism offered by FPGAs, these devices are perfectly suitable for industrial high-performance applications. Even modern CPUs are not always able to handle real-time and high-throughput requirements of certain use-cases.
We are experienced in designing IP cores for a broad range of applications: from high-performance computation cores and high-speed interconnects to low-power and cost-optimized glue logic.
Modern applications require flexible and adaptable systems. Therefore, SoC devices are getting more and more popular in the industry, as they offer the possibility to efficiently partition systems into software and hardware parts on a CPU, FPGA, and other accelerators. Before the actual implementation, we create a detailed hardware-software partitioning concept, to ensure efficient usage of resources and future-proof design.
Each project is designed in a way to ensure optimal prerequisites are given for later testability. Based on the concept and design, implementations are verified – using both functional and formal methods – to offer the highest quality standards and efficient development flows.
Development Tools
The following tools were used in previous projects:
MathWorks® Matlab® | MathWorks® Simulink®
Xilinx Vivado®
Intel® Quartus® Prime
Mentor Graphics ModelSim®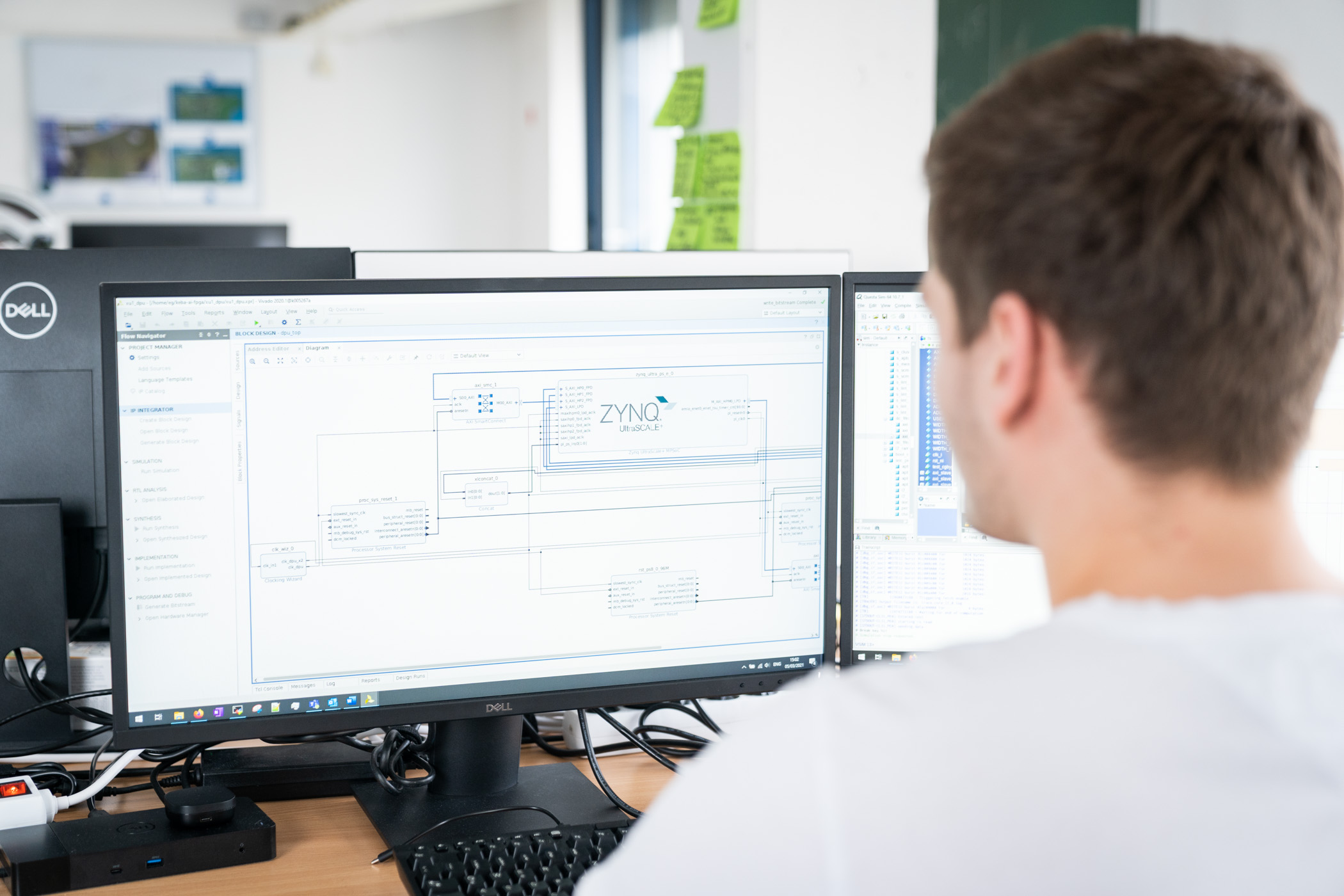 Industrial applications can be massively enhanced using AI. Critical real-time and data-integrity requirements make the integration of such algorithms difficult. With our customer-oriented AI accelerator, your industrial applications become smarter by efficiently combining and using hardware and software components.
We either optimize and accelerate an existing AI model, or analyze your needs based on your requirements, and design the perfect model for you. This process is done in cooperation with our external partners, which are specialized in AI model development and optimization, to achieve high accuracy and efficiency.
Depending on the performance and cost requirements, a suitable hardware accelerator from our product range is selected and combined with our custom software libraries. This ensures the best price-performance ratio while satisfying all your needs.
The Danube AI Platform guarantees an efficient way of enhancing your application with AI. Fully customizable to your needs and developed to offer energy-efficient and high-performance computation at the Edge.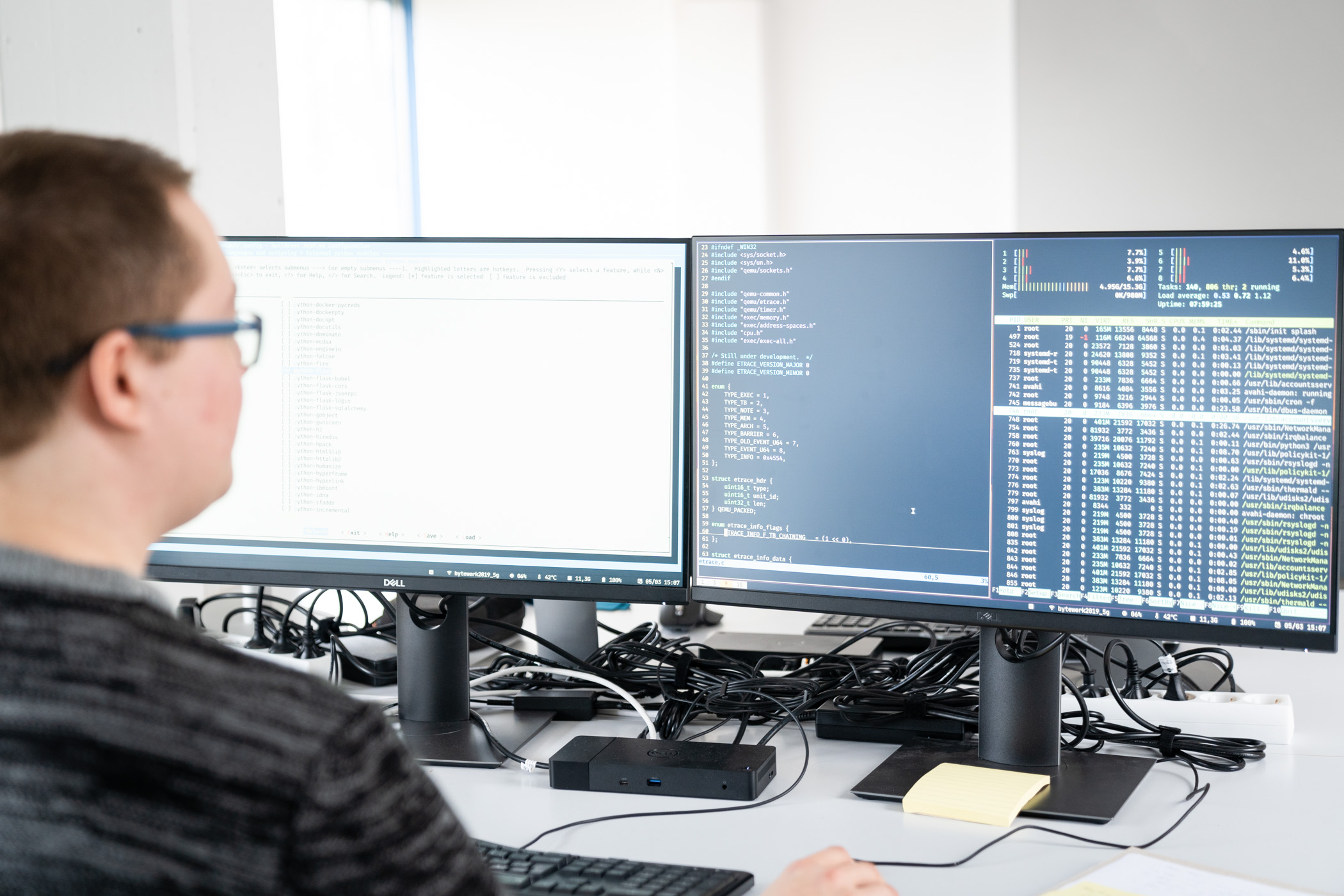 Danube Dynamics leads you through the whole product development lifecycle - from requirements engineering and planning to implementation, testing, and maintenance - tailored exactly to your needs. Throughout this process, we always keep in mind the system in its entirety.
A dancing couple only succeeds when working together step by step. Similarly, we believe that close cooperation with our customers is the key to achieve peak quality, efficiency, and innovation.
Waltzing Forward - together.